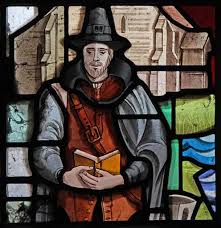 Unique Arts and Crafts Exhibition
New portrait of William Bradford by award winning local artist Catherine E Inglis.
Many new artworks depicting the pilgrim story in paint, embroidery, quilt and collage.
Celebration of Mayflower 400 and William Bradford's Baptism in the font in the church in 1590.
12 Noon on Saturday, Sue Allen will be giving a talk on William Bradford and the Mayflower Pilgrims.
Refreshments available.
Admission free