Pilgrim Hats
Google 'pilgrim' and this is the second image that comes up. Buckles on shoes, belt and, most especially, hats! This cartoon-ish interpretation of 17th century fashion has become almost a logo for the pilgrims. But historians think buckles did not actually come into style until decades later! The pilgrims wore those tall hats, but without the expensive and fancy addition of a buckle.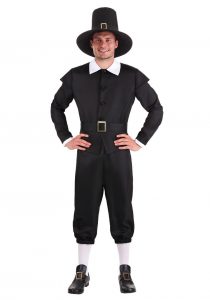 https://www.halloweencostumes.co.uk/mens-first-pilgrim-costume.html
Rice crispy and biscuit Pilgrim hats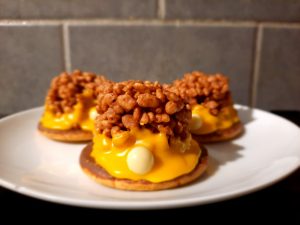 Ingredients:
100g Rice crispies
150g milk chocolate
15 digestives
250g icing sugar
2tspn yellow food colouring
Something to decorate
Method:
STEP 1
Put the chocolate in a heatproof bowl and gently melt in 10-second bursts in the microwave, or melt it over a pan of simmering water, making sure the bowl doesn't touch the water. Stir until smooth, then take off the heat and stir in the rice crispies, coating them gently with the chocolate until they are all completely covered.
STEP 2
Place the 15 chocolate digestives on to a baking tray chocolate side up. carefully spoon the rice crispy mixture on to the biscuits. you can use an egg cup to help create a hat shape. Leave to set. If you want them to set faster, put in the fridge for 1 hr.
STEP 3
Mix the icing sugar and yellow food colouring together with 3-4 teaspoons of water. Place into a piping bag and squeeze around the bottom of the rice crispies.  Add a small decoration while the icing is still wet enough to stick them on. Will keep in an airtight container for five days.