Update – Deadline Announcement!
Send photos of your crops and plants to info@pilgrimroots.org by close of play on Thursday 9th September to be in with a chance of winning this year's competition!
Three Sisters Planting Competition 2021
After the success of last year's competition, Pilgrim Roots is expanding the Three Sisters Planting competition with a separate category for schools and organisations!
2021 is the 400th anniversary of the harvest feast that became known as the First Thanksgiving in America; at that feast, pilgrims who came from our area ate the new crops they had been taught to grow by the Native Americans. These were corn (maize), beans and squash.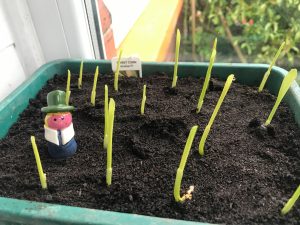 The Native Americans had a tradition that these three plants were inseparable sisters who would only thrive together, and they are still used in companion planting today. This year we're running two competitions, one for individuals & families and one for schools & groups, so your chances of winning the grand prizes are greater than ever. The challenge is to grow corn, beans and squash together in England and make them flourish as they did in Massachusetts 400 years ago.
The first prize in both categories is £200 of garden centre vouchers, with the runner up in each category getting £50 of vouchers. Local schools who take part can contact us for a free pack of seeds to get their planting started, and will all receive a certificate for taking part.

The competition will be judged via photographs, so all you need to do to enter is send pictures of your plants and crops in to us this autumn. The weather will impact on the timing of harvest, so check back here or keep an eye on our social media for further announcements including the competition deadline. We'll be using #ThreeSistersPlantingComp and you can too, if you want to show off your progress!
For further information or to register your school for a free set of seeds, email info@pilgrimroots.org
For a guide on how best to plant your three sisters together, click the button below: