Life in Leiden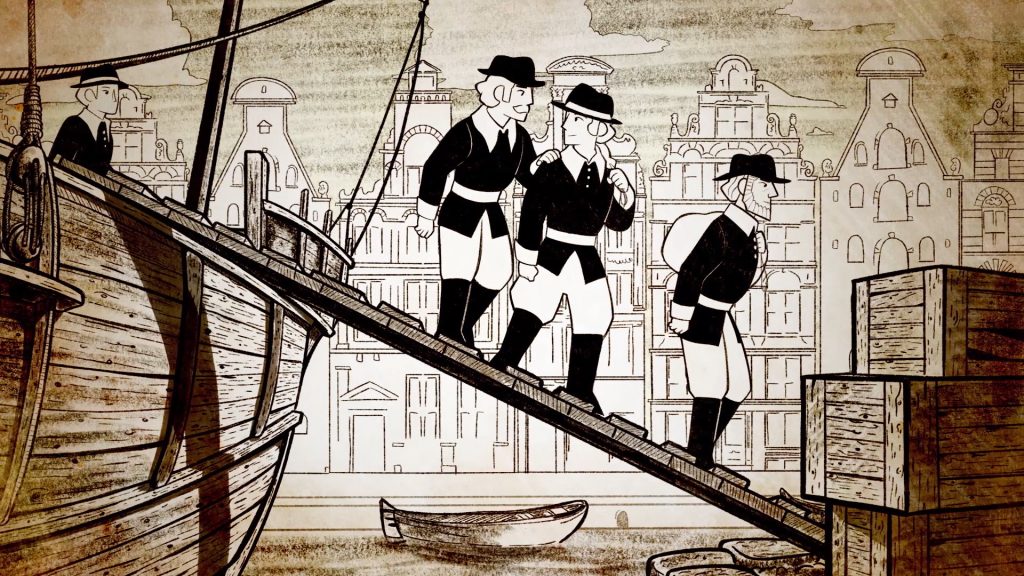 Many of the Separatists from the Gainsborough area and other places in England had escaped to Holland in 1608, and after a year in Amsterdam, they moved – under the leadership of Rev John Robinson – to the neighbouring city of Leiden.
Bradford, Separatist Pilgrim and later diarist of their lives and times, described their new home as, "a fair & beautiful city, and of a sweet situation, but made more famous by the university [there], in which of late had been so many learned men." The University was definitely an attraction for some of their group, particularly Robinson.
Moving away from the sea, the Pilgrims were forced to find alternative work in their new city (often in the cloth trade) and make do with what they had:
"But wanting that traffic by sea which Amsterdam enjoys, it was not so beneficial for their outward means of living & estates. But being now here pitched, they fell to such trades & employments as they best could; valuing peace & their spiritual comfort above any other riches whatsoever. And at length they came to raise a competent & comfortable living, but with hard and continual labour."
They were, according to Bradford, happy here for many years, and somewhat relieved after the problems they had previously had with their lives in England and journey to Holland:
"Being thus settled (after many difficulties) they continued many years in a comfortable condition, enjoying much sweet & delightful society & spiritual comfort together in the ways of God, under the able ministry, and prudent government of Mr. John Robinson, & Mr. William Brewster, who was an assistant [to] him"
Their numbers grew, as others fled England to join them – they got on well, with the odd exception:
"[They] lived together in peace, & love, and holiness; and many came [there] from diverse parts of England, [becoming] a great congregation. And if at any time any differences arose, or offences broke out … they … nipped [it] in the head [so that] love, peace, and communion was continued; or else the church purged of those that were incurable & incorrigible, when, after much patience used, no other means would serve, which seldom came to pass."
Bradford's most unstinting praise was given as he recalled the role of their spiritual leader and guide, Robinson:
"[Robinson's] love was great towards [his flock], and his care was … for their best good, both for soul and body; for besides his singular abilities in divine things … he was also very able to give directions in civil affairs, and to foresee dangers & inconveniences … none did more offend him than those that [kept to] themselves, and retired from the common good."
Robinson is perhaps most famous for being the Pilgrim that never got to America, choosing to stay instead with the majority of his congregation in Leiden when the first colonists sailed. His advice and guidance though remained a constant for them. Bradford remarked how much of a loss it was after his death in 1625:
"They esteemed him highly whilst he lived & laboured amongst them, yet much more after his death, when they came to feel the want of his help, and saw (by woeful experience) what a treasure they had lost, to the grief of their hearts, and wounding of their souls; … such a loss as they saw could not be repaired; for it was as hard for them to find such another leader"
Robinson is commemorated in Leiden at the Pieterskerk, as well as in Gainsborough, not far from the village of his birth, Sturton le Steeple. Gainsborough's United Reformed Church was built in memory of Robinson in 1896.
Next week: Sedition – the Pilgrims' publications anger the English King…
Enjoying PilgrimAGE? Please give us some feedback via the button below!